At Create a Smile Dentistry, we take every aspect of your health and happiness into consideration. Dr. Ken Moore will design custom-made mouthpieces to solve common problems like snoring and teeth grinding.
No More Embarrassing Snoring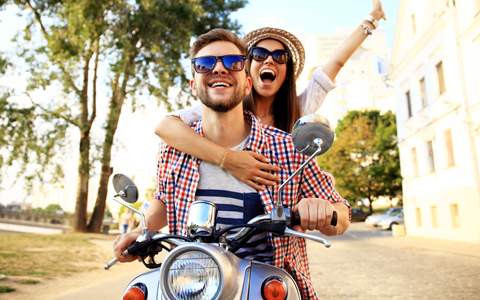 One of the most embarrassing habits is snoring because you can't control it! If someone has told you that you snore, or if your snoring is keeping your loved ones up at night, you know how frustrating this problem can be.
Come in for a consultation with your dentist to find out if the problem is sleep apnea or just the snoring itself. It is possible that you require sleep apnea treatment to prevent complications and reduce your risk of conditions including heart attacks and diabetes. It may be possible for you to stop snoring forever with a simple solution from Create a Smile in Bloomington, IN.
A snoring mouthpiece may be all it takes to stop snoring permanently, so you can fall asleep anywhere without a second thought, and sleep soundly through the night.
The staff is extremely friendly and professional. The environment is pleasing and everything seems to be state of the art. Awesome staff, awesome service, I would recommend Create-A-Smile 100%.
Tyler B.
Protect Your Teeth From Teeth Grinding
Teeth grinding is caused by stress and anxiety, and causes all kinds of pain and symptoms. Some of these complications include:
Tooth pain.
Headaches.
Jaw pain.
Earaches.
Damage to existing dental work.
Damage to the enamel of the teeth.
Change in bite.
TMJ disorder.
Neck pain.
You should take care of teeth grinding before you have to deal with its consequences. It isn't hard to reverse the issue at Create a Smile Dentistry.
How Can a Mouthpiece Help?
A night guard or snoring mouthguard is a customized device inserted into the mouth at night to help you stop snoring or stop teeth grinding.
This simple, noninvasive snoring mouthpiece can stop you from snoring forever by keeping your airway free and clear. Your snoring mouthpiece will be custom-fitted for your comfort and is always portable and easy to clean.
One in five people suffer from sleep apena and often it goes undiagnosed. This can lead to many severe health problems such as high blood pressure, stroke and heart attacks. Create a Smile takes that seriously and we have invested in a home sleep to screen our patients to determine what dental appliance is best for them.
Get Sleep Apnea Care in Bloomington IN
At Create a Smile in Bloomington we utilize a high-quality lab to design durable oral appliances to eliminate snoring and teeth grinding for good. If you snore or grind your teeth, schedule your visit with Dr. Moore today to discuss your options. Treatment may be easier than you ever thought possible. Call today.