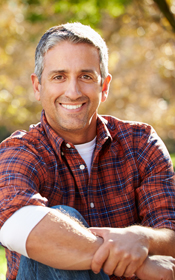 When a tooth infection disturbs the soft tissue of a tooth, a root canal is necessary. Dr. Moore provides precise root canal procedures to patients who want to avoid toothache and tooth loss.
During your procedure, we will numb the infected tooth so you do not experience any discomfort. We will clean the area thoroughly and then seal it. We also offer sedation dentistry options to patients who are nervous about their root canal procedure, so there's absolutely nothing to worry about!
Causes for tooth infection include:
Deep cavities
Repeat dental procedures
Trauma to the tooth
Cracked or broken tooth
It is best to seek treatment before you develop an abscessed tooth. Endodontics, or the specialty of dentistry related to the inner tooth, can help you overcome a tooth infection without tooth extraction.
Why Have a Root Canal?
When a tooth is cracked or decayed, bacteria can enter the pulp and develop into a tooth infection. It is critical to undergo root canal therapy before further toothache and swelling occur, or else the tooth may require extraction. Root canal treatment is the best way to save your tooth and your healthy natural smile!
First off, I hate going to the dentist and get super nervous each time. They were extremely welcoming and friendly from the moment I walked in! All of the staff I encountered were amazing! I highly recommend this office!
Shanna T.
Do I Need Root Canal Therapy?
If you need root canal therapy, you may or may not experience toothache, but some of the common symptoms of tooth infection include:
Severe toothache
Pain upon chewing or application of pressure
Increased sensitivity or pain in response to extreme temperature
Darkening of the tooth
Swelling and tenderness in the nearby gums
If you experience any of these symptoms, contact your dental professional.
Dr. Moore offers root canal procedures utilizing advanced technology for superior results. The team at Create a Smile is happy to provide same-day root canal procedures in the case of an emergency.
Feel free to contact our office today with any questions or to schedule an appointment.
Related Content