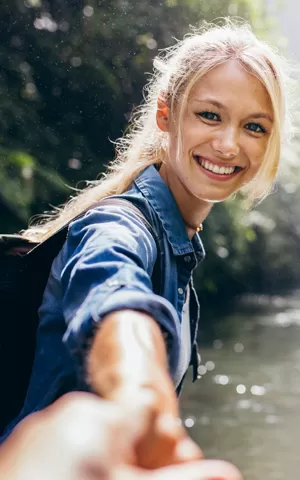 Sparkling white teeth are the epitome of a beautiful smile. While many people get enough satisfaction from whitening toothpaste, you may decide that you want an even whiter smile! If you want to explore teeth whitening options, schedule an appointment or ask us about it at your next cleaning!
Teeth Whitening Options
Some teeth whiten better than others and we are more than happy to discuss all the options available to you. Here are the options you have for achieving a bright white smile:
In-Office Bleaching | During your appointment we will apply a protective gel to your gums, along with a protective shield in some cases. We will then put the bleaching agent on your teeth and use a special light that works with the agent to get you the whitest smile!
At-Home Bleaching | Bleaching kits and simple bleaching strips are easily available for at-home bleaching. Results will vary and you may experience some tooth sensitivity.
Whitening Toothpaste | The easiest and most inexpensive way to whiten teeth is with tooth whitening toothpaste! Almost all kinds of toothpaste contain a whitening agent that works to remove surface stains.
Zoom! Whitening
Zoom whitening is a chairside whitening procedure that involves a low-sensitivity whitening gel and a special light to activate the gel. The Zoom whitening treatment is:
Quick and Easy | Our trained staff will quickly apply the gel to your teeth and then activate it with a light. After one easy hour in the dental chair, your teeth will be 6-10 shades lighter.
A Way to Achieve Dramatic Results | The Zoom! system yields stunning results, giving you bright white teeth eight shades whiter after just one hour.
A Safe and Painless Procedure | Teeth whitening is one of the safest cosmetic dentistry procedures available, and one that makes the greatest impact. Most patients notice little to no discomfort associated with their Zoom whitening procedure.
I have been Dr.Moore's patient for over 20 years. He and his staff are top-notch professionals who have addressed each of my dental needs with the highest level of expertise and concern. On my last visit, I chose to try Zoom whitening for my lower teeth. WOW-what a remarkable difference it makes! I highly recommend it.
Brenda R.
Schedule Your Teeth Whitening in Bloomington, IN
Getting white teeth doesn't have to be difficult. At Create a Smile Dentistry in Bloomington, IN we provide simple, beautiful teeth whitening treatments to our valued patients. Give us a call, text, or contact us using the form below to schedule a teeth whitening appointment today.