Teeth veneers are often the ideal solution to a broken smile. At Create a Smile in Bloomington we offer skillfully crafted veneers that are customized for your teeth. These porcelain veneers can drastically change the way you look and the way you feel about yourself.
Do you have stained, chipped, or imperfect teeth for any reason? Ask your dental expert if teeth veneers are right for you!
How Can I Benefit From Dental Veneers?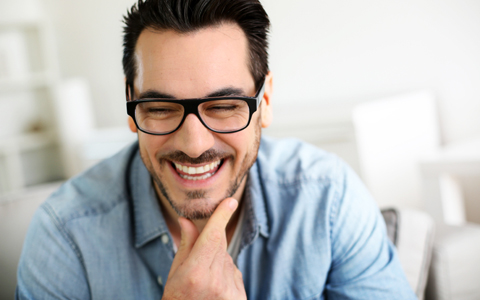 Dental veneers can change the color, shape, size, or length of your smile based on your exact specifications! Porcelain veneers will:
Provide a long-lasting and stunning smile.
Instantly transform your smile without orthodontics or surgeries.
Resist stains and chipping for 10–15 years.
Give your smile a natural yet flawless appearance.
Porcelain Dental Veneers at Create a Smile Dentistry
Porcelain veneers are ultra-thin shells that are custom-made to cover the surface of your tooth. Our dental veneers are meticulously designed by layering tooth-colored materials to create a strong and durable shell.
The porcelain veneers process usually requires two visits.
The Dental Veneers Process
During your first visit, we will prepare your teeth and take impressions of the teeth. We may provide you with temporary teeth veneers while our lab manufactures your state-of-the-art restoration.
After a short wait, you will return to Create a Smile Dentistry for your second visit. Either Dr. Moore will check the fit of your permanent dental veneers, and then bond the thin material to your teeth. He will be sure to create a strong bond so that your porcelain veneers can last for years when well taken care of with regular flossing and brushing.
Everyone here is friendly, kind, and helpful. I am often a very nervous dental patient, but since coming to this practice, I no longer dread dental appointments. They answer all your questions and the office also always runs on time.
Wendy B.
Get Porcelain Dental Veneers in Bloomington IN
If you think you may be interested in improving your smile with dental veneers, give Create a Smile in Bloomington, IN a call today. You can also text our office or contact us using the form on this page.
Our team will give you an enjoyable dental experience along with the beautiful results you have always wanted. We serve patients throughout the Bloomington and Ellettsville, IN, areas and we look forward to serving you.