Gum disease treatment is designed to stop the progression of periodontal disease and alveolar bone loss by removing bacterial endotoxins. Alveolar bone loss occurs when gingivitis, or gum inflammation, goes untreated and progresses into periodontal disease.
Periodontal disease is a serious condition that leads to the destruction of the bone surrounding the teeth. The goal of gum disease treatment is to return the gums back to their natural healthy state. During your session, we will apply an anesthetic to the affected area before we begin.
Disinfection involves cleaning the gums and root surfaces with scaling and ultrasonic scalers. While periodontal disease cannot be cured, it can be treated! The best way to protect yourself from periodontal disease is to be proactive about your oral health. This means scheduling regular cleanings, developing good brushing habits, and not forgetting to floss!
Do I Have Gum Disease?
Gum disease is the infection of the tissue surrounding your teeth. If left untreated, gum disease can result in detrimental tooth and bone loss. It can sometimes go unnoticed because your symptoms may be minimal, and unless you see your dentist regularly, you may not be getting the treatment you need.
Gum disease can cause:
Your gums to swell and bleed
Pain or discomfort in the gums and teeth
Difficulty chewing or swallowing
Loose teeth or change in bite
However, periodontal disease does not always manifest symptoms. Keep up with regular checkups and give our office a call if you notice any of the signs of gum disease.
I've been here for a cleaning and filling and have had a wonderful experience. Everyone is so kind and helpful. They explained everything to me as they were doing it. Everyone seems to enjoy working there. They all have such positive attitudes and there are constant laughs and smiles. I would highly recommend Create-A-Smile!
Jillian K.
What are my Options at Create A Smile?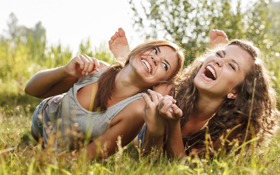 At our Create a Smile office, we may recommend various gum disease treatment methods. Some options include:
Standard dental cleaning
Scaling and root planing (deep cleaning process)
Laser Dentistry
Take Control of Gum Disease in Bloomington, IN!
Laser dentistry is a painless gum disease treatment that can eliminate the disease-causing bacteria. If you know or want to know if you need gum disease treatment, please call our office right away to make an appointment. We will find you the comfortable gum disease treatment you need to protect yourself from periodontal disease. We serve patients throughout Ellettsville, Bloomington, and Handy, IN.
Related Content