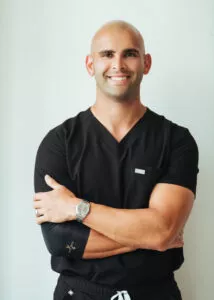 Dr. Richardson is a true Hoosier, born and raised in Bloomington. He received his degree in Biology from Indiana University and went on to receive his Doctorate of Dental Surgery at Indiana University School of Dentistry – graduating at the top of his class clinically.
Dr. Richardson began pursuing advanced education in dental implants immediately after dental school, working for New Horizon Institute and Implant Pathway in Tempe, AZ. There, he was able to work with and learn from some of the best surgeons and prosthodontists in the country gaining valuable experience and adding to his skill set.
Having completed 500+ hours of continuing education in surgical and prosthetic dentistry Dr. Richardson stays at the leading forefront of the newest procedures and materials when it comes to tooth replacement. He is pursuing advanced credentialing with the American Academy of Implant Dentistry (AAID) as well as the American Board of Oral Implantology (ABOI). Dr. Richardson also maintains his Advanced Cardiac Life Support (ACLS) certificate. Additionally, Dr. Richardson offers sedation in office for patients that want a more relaxed experience.
Dr. Richardson and his wife, Sara, live in Bloomington and love getting out in the community, enjoying the wonderful restaurants the town has to offer and both are avid Indiana University basketball fans. Outside of dentistry, Dr. Richardson enjoys golfing, traveling and spending time with his two dogs, Knox and Oakley.
Dental Services Dr. Richardson Offers
Dr. Bryce Richardson is proud to offer a wide variety of dentistry services to Bloomington and the surrounding areas of Ellettsville. These services include:
Dental Implants | Replace your missing teeth with the top replacement option when you choose dental implants with Create A Smile in Bloomington, IN. With dental implant options, including teeth-in-a-day dental implants, you can have better functionality of your teeth and more comfort than you would get with traditional dentures. Learn more about dental implants.
Cosmetic Dentistry | Cosmetic dentistry consists of dental work that improves the appearance of your teeth, gums, or bite. Its main focuses are in improving tooth color, position, shape, size, alignment, and overall smile appearance. Cosmetic dentistry procedures that Dr. Richardson is especially skilled at are his one-visit dental crowns and bridges.
Restorative Dentistry | Restorative dentistry focuses on managing diseases of the teeth and their supporting structures as well as rehabilitating damaged or dysfunctional teeth until form and function are restored.
General Dentistry | General dentistry is primarily considered with the prevention of disease. Procedures such as extractions, teeth cleaning, and oral cancer screenings help promote good overall oral health and hygiene.
Sedation Dentistry | Sedation dentistry helps to facilitate necessary dental procedures by reducing anxiety in patients. Dr. Richardson utilizes both mild and moderate sedation techniques depending on the level of dental apprehension a patient may have.
Invisalign Aligners | Invisalign clear aligners are a wildly popular alternative to traditional metal braces of old. Not only do patients love getting straight teeth, they also love the increased comfort and discreteness that Invisalign aligners allow.